Yesterday, we had a wall through the old market town of Ledbury near us here in Great Malvern and we stumbled across Coeur De Lion jewellery which is handmade in Germany. We instantly liked it and thought that it really worked as smart casual jewellery. This meant that Mrs P would be able to wear this style of jewellery a lot. The necklaces come in at just over the £100 pound mark so just a bit much for a spontaneous purchase. However, we have blogged recently about taking a long weekend break in Berlin and this has now been booked and on checking there is a jeweller selling Coeur De Lion jewellery less than a kilometre from our hotel. Guess one of these necklaces could well be Mrs P's memento from Berlin!
Below you can learn more of the brand. This has been lifted from their own website, a link to which you will also see below.
Handmade designer jewellery from COEUR DE LION can be recognised by its quality seal.
HANDMADE IN GERMANY
Most of the steps in the manufacturing process at COEUR DE LION are completed by hand: from gluing, assembling and threading to roughening and filing a wide range of surfaces, the staff at our studios have to be dexterous. Our suppliers also do a great deal of work by hand, such as anodising aluminium. That is unlikely to change any time soon, because hands are quite simply the ultimate tools.
Enduring beauty should be durable
The use of high-grade materials and extremely precise craftsmanship give designer jewellery from COEUR DE LION an exceptionally long life. After all, you want enduring beauty to last. To guarantee this, the whole manufacturing process – from the initial design to the painstaking final quality check – takes place in our Stuttgart studios. That is the only way to translate Carola Eckrodt's timeless designs into refined jewellery which its wearers will enjoy for years to come.
Genuine COEUR DE LION: look for the quality seal.
Every COEUR DE LION necklace and bracelet comes with a stainless-steel quality seal – your guarantee of carefully checked workmanship from our studios. Each jewellery box also contains a certificate of authenticity authorised by the stockist you buy from. This is our way of certifying that COEUR DE LION designer jewellery is of the highest quality and has been made to last.
The history of the brand COEUR DE LION.
NOMINATED FOR JEWELLERY BRAND
OF THE YEAR 2015:
JEWELLERY BRAND OF THE YEAR 2014.
What an honour: only recently awarded the UK Watch and Jewellery Award, COEUR DE LION has been nominated for the second time in a row for this coveted honour. A big thank you to the jury.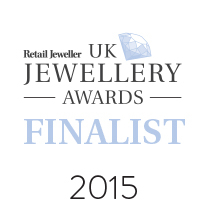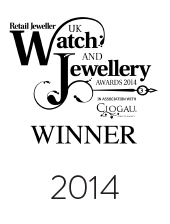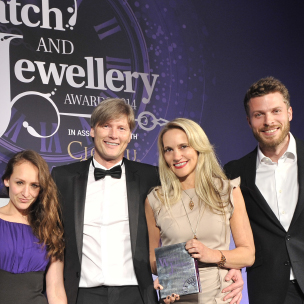 HANDMADE IN GERMANY.
HONOURED IN GREAT BRITAIN.
2014: COEUR DE LION has been selected as the "Best Jewellery Brand 2014" at the UK Watch and Jewellery Awards 2014, the most prestigious distinction in the sector in Great Britain.
According to the jury, the deciding factors for this were a "primarily colourful and especially vivid brand" and the "impressive product variety". We would like to express our warmest thanks and we view this honour not only as acknowledgement but also as a stimulus for further successful years.
COEUR DE LION IS CELEBRATING ITS 25th ANNIVERSARY: THE COMMEMORATIVE MODELS.
Twenty-five years of "The finest fashion jewellery" calls for a celebration. To mark this occasion, Carola Eckrodt has created the first limited commemorative models – reminiscent of the successful history of our company spanning a quarter of a century. The classic design from the renowned Geo Cube collection has been recreated with sparkling double spacers made from multicoloured rhinestone rondelles studded with crystals from Swarovski® in a limited edition of 2,500 sets. Another commemorative piece was the radial necklace crafted from diamond-cut, anodised aluminium, the base material with the silky sheen that COEUR DE LION has been using since 1987. Limited edition of 250 sets. Both sets are out of stock.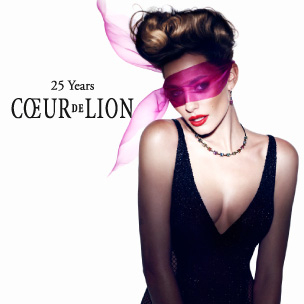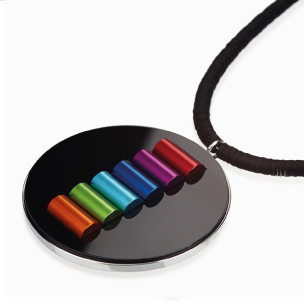 FIRST! JEWELLERY MADE FROM DIAMOND-CUT ANODISED ALUMINIUM.
COEUR DE LION is the first German company to work diamond-cut anodised aluminium into silky, glittering jewellery. Developing the 'prototypes' was a real challenge: to prevent unwanted scratches, the aluminium profiles had to be turned very slowly using a diamond tool. This is the only way of achieving a smooth surface to make the material attractive for long-term use as a jewellery component.
COLOUR BRINGS JEWELLERY TO LIFE.
Shortly afterwards, a process was employed alongside anodisation to deposit a protective oxidic coating just a few nanometres thick on the aluminium and thus protect the material from corrosion. The result was the first coloured anodised designs – in silver, gold, blue and red. The famous base material from 1987 is still used in Carola Eckrodt's collections today.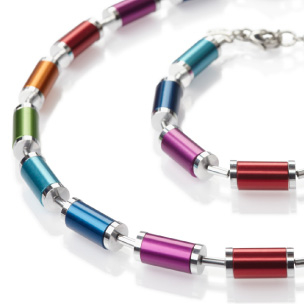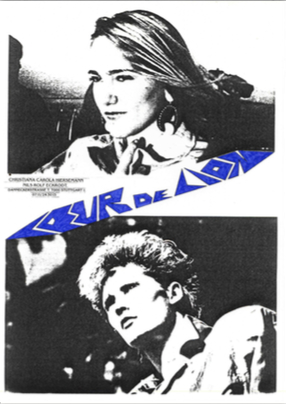 1987: AVANTGARDE, 1999: CLASSIC.
Also in 1987, the same year the company was founded, Carola Eckrodt presented her first creations using industrial parts at the Avantgarde exhibition in Munich, then the main trade fair for innovative fashion jewellery. Her partner Nils Eckrodt, who at the time had a holiday job with Mercedes-Benz, was able to supply the young designer with plenty of materials.
The Dusseldorf-based couturier Hanns Friedrichs, who became a style icon as outfitter to Joan Collins, took an interest in the fledgling company and bought the complete first collection, which in addition to gearbox parts also incorporated rubber, petrol hoses and alloy steel.
HOW TO MOVE WITH THE TIMES YET REMAIN TRUE TO YOURSELF.
In 1987, the young couple Carola and Nils Eckrodt founded COEUR DE LION, named after an English Punk record label. The first pieces of jewellery were made by family and friends, sold by family and friends and – as a sign of true solidarity – worn by family and friends.
Today, around 90 people work in the Stuttgart studios creating jewellery for women across the entire world. Our range always includes around 200 different necklaces, 150 bracelets, 300 pairs of earrings and 60 rings. Some 100 new sets are added each season.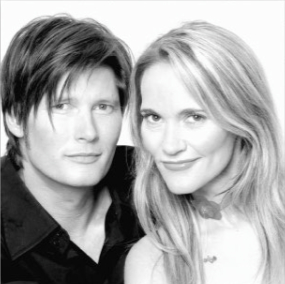 Visit their site Coeur De Lyon